Mar 30, 2023
BVB, GLS, and Bettermile elevate the merchandise delivery
Press release, Reading time: 2 min

From the stadium to your doorstep: Partnership in action
Bundesliga football team Borussia Dortmund is now extending the football experience to fans' doorsteps: those who order from the BVB fan shop will now receive shipping information not only in real-time via live ticker but also in the club's black and yellow colors. This initiative is made possible by the parcel service provider GLS Germany, which has been the official logistics and champion partner of the club since summer 2021, and Bettermile, a provider of AI-based software for the last mile of parcel delivery and strategic partner of GLS.
"Ordering fan merchandise from one's favorite club is something very special for a fan. We are pleased to enhance the ordering process with real-time tracking and to provide our fans with even more joy. The gained transparency hopefully helps to fuel the anticipation even more."
Kerstin Zerbe, Managing Director of BVB Merchandising GmbH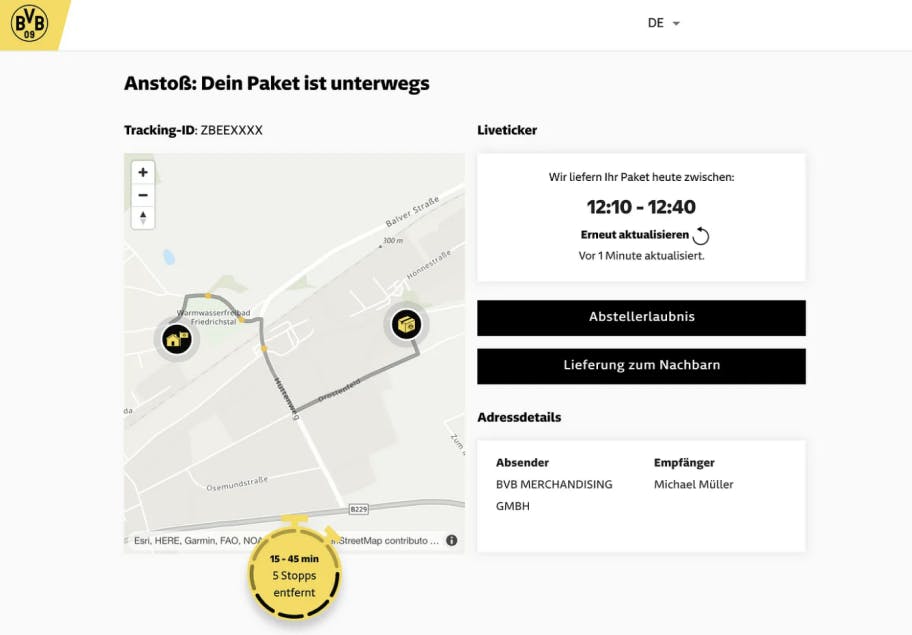 "After almost two years of successful cooperation, we have taken the next step with the implementation of real-time parcel tracking and, with the real-time tracking technology, we color the last mile of parcel delivery in black and yellow for BVB fans."
Jascha Waffender, Marketing Director of GLS
Together with Borussia Dortmund's design team, GLS and Bettermile have customized the overview page displaying the current delivery information of a fan article package to match the BVB look. All updates are delivered using football language via a live ticker. For instance, recipients might read that their package is "a halftime away." The live ticker reveals the always-current location and the predicted arrival time of the package, with Bettermile's geodata-based technology forecasting it down to an accuracy of 10 minutes. Recipients access the black and yellow live ticker via an email link they receive after making a purchase in the BVB fan shop. The tracking also offers recipients the option to intervene in the delivery process at short notice – for example, if they cannot personally receive the package.
Real-time tracking is a much-appreciated service
"Delivery today is an integral part of customer satisfaction. Some recipients anticipate the delivery so eagerly that they click on the overview up to 35 times during the delivery process."
Simon Seeger, Founder and CEO of Bettermile
GLS handles the entire BVB fan dispatch in Germany. All jerseys, footballs, and other merchandise items are reliably sent to their new owners by the parcel service provider. The delivery of all packages is made carbon-neutral through the use of low-emission and emission-free vehicles and industry-standard compensations via certified climate protection projects.
About Borussia Dortmund
Borussia Dortmund is one of the most traditional and popular German football clubs. Founded in 1909, BVB has over 10 million fans in Germany alone and a rapidly growing fan base worldwide. The eight-time German champion and five-time DFB Cup winner was the first German club to win a European Cup competition in 1966. BVB also won the UEFA Champions League in 1997, becoming the first Bundesliga club to do so, and also claimed the Intercontinental Cup in the same year. With a total turnover of over 400 million euros, Borussia Dortmund is also among the world's most economically robust football clubs.
About the GLS Group
The GLS Group is one of the largest independent parcel service providers in Europe with a strong local presence in almost all countries of the continent. Furthermore, GLS operates through wholly-owned subsidiaries in Canada and on the US West Coast within a GLS network. This allows GLS to seamlessly connect their customers and communities with millions of packages and stories every day. The company is proud to offer high-quality service to its customers in around 40 countries. The GLS network consists of over 120 hubs and more than 1,600 depots, supported by around 37,000 vehicles for the last-mile delivery and 4,500 long-haul trucks. In the fiscal year 2021/22, GLS achieved a record turnover of 5 billion euros and delivered 870 million packages in all markets.
Bettermile provides a geo-based and AI-powered SaaS product suite for dynamic, multi-constraint, many-stop address processing, routing and navigation. Sound complex? It is. But we also make it easy to use with our web and mobile apps, APIs and SDKs.

We're setting a new standard for the last mile. And raising the bar for the delivery industry. All thanks to our seasoned, international team of tech enthusiasts and logistics experts and a truly dynamic product suite.
Press kit
Our press kit offers you everything you need for your coverage: logos, pictures, short bios, boilerplates and company presentations.
Download the press kit